Bulgogi Jeongol Recipe
Bulgogi Jeongol is a classic Korean stew or casserole, using our favourite beef recipe whilst adding lots of vegetables and making a great stew. I like this when I have friends and family over as the beef will go along way and feed lots of people, it makes a good centre piece to be surrounded by side dishes and a nice introduction to Korean food for those who have never tried it.
Jeongol's are dishes comprising of meat or fish and plenty of vegetables, which have been fried and then boiled immediately afterwards, the flavourings will come from the meats and sauces added, in this case the bulgogi sauce from the beef will make the casserole very tasty indeed.
I have used the following ingredients:


350g of sliced Beef
1/2 Onion
1/2 carrot
1/2 courgette (zucchini)
2 big mushroom
2 spring onions
100g Tofu
50g enoki mushrooms (optional)
1 handful of Noodles
2-3 tablespoons of chicken stock

Sauce

300ml Soy sauce
1 medium Apple 1 Asian Pear (use 2 normal pears if Asian pears are not available)
1 medium onion
5 cloves of Garlic

The first steps to making bulgogi Jeongol is to make some bulgogi sauce, if you have already made some bulgogi sauce for some other dishes you can put it straight to use here, if not you can make some up. I normally make plenty and keep it in the fridge for regular use as it's so tasty and versatile.
To make Bulgogi sauce, put 300ml of soy sauce in a blender and add to this a peeled and cored apple and an Asian pear, a medium onion and 5 cloves of garlic, Blend this well and store in jars.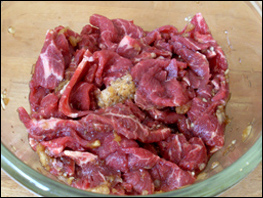 Take the beef and onion and slice this thinly, pop this in a food bag and add about 4 tablespoons of the bulgogi sauce. Mix this well and leave in the fridge to marinate, the longer the better 30 minutes I would say is a minimum or you can leave overnight.





When you are ready to make this dish, fill a saucepan with about a litre of warm water and add 3 tablespoons of chicken or beef stock, mix this together so the stock has fully dissolved. Slice all the vegetables and then place these in the saucepan. Add to this the marinated beef and the bring to boil, Keep boiling until cooked which is about 15 to 20 minutes.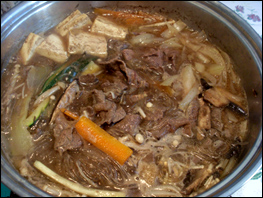 At this point you can add some noodles, I have used some glass noodles here which are used in Japchae. I have boiled these separately, and rinsed in cold water. Add the noodles for the final couple of minutes and then serve with some side dishes.
If you are making this for friends or a group you can put this on a burner in the middle of the table, keep boiling and serve in a traditional Korean style.