You can cook great tasting Korean food
And learn all about Korean Cuisine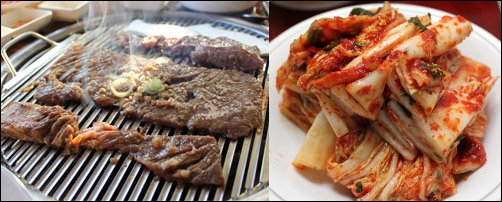 Hi I'm Luna
Welcome to my site which is designed to unlock all the secrets of Korean food, and show you how anyone can make Korean cooking part of their life. My site if full of easy to follow Korean Recipe's with plenty of Korean Food pictures, helping to guide you through the entire process and open up your pallet to a new way of eating.
Did you know that Korean cuisine is one of the fastest growing food cuisines in the world? You may have already tried our most popular dishes like Kimchi or Bulgogi, however there is so much variety to to Korean cooking that there is something for everyone. I am adding new recipes all the time and hope to have something you will try and love, please join the free members club to be kept informed of all the latest updates and get exclusive offers direct to your email inbox.

Popular recipes
I would like you to get involved, try out some of the recipes at home and show me what you have done, or share your experiences of Korean restaurants from around the world. I hope to be able to run some competitions soon and lets all have some fun with South Korean food.
Korean food is unique in its flavours, we use our very own red pepper paste called gochujang, and also use soy bean pastes, fish sauces, fruit, soy sauce and sesame oil to create amazing Korean dishes in minutes, and I am sure you will love them as much as my family does. In fact I believe that the uniqueness of Korean Cuisine is what makes it so popular around the world, and if you knew how simple it was to cook you might be eating Korean food every day.
On the left you will see that I have a link to all my Korean recipes, this is a great way to learn about Korean cooking, the recipes are simple and easy to follow with Korean Food Pictures. Under the Korean Foods tab you will find some interesting information about some famous foods that will certainly wet your appetite and you should try if you ever visit a Korean restaurant.


I have a section for famous side dishes which accompany our food so you can create an authentic Korean meal. These are easy to make and often stored in the fridge for instant use, very much part of our culture and an important part of Korean Cooking.

There is far more to Kimchi than most people realize, in its simplest form it's a spiced fermented cabbage, which is in the top 5 healthiest foods in the world, however there are many different types of Kimchi, because of the many regional variations throughout South Korean Food. I have created some pages on how to make it at home, the health benefits, recipes using kimchi and show you some of the most popular varieties.

Korean Noodles are very popular throughout the world, and are very quick and easy to make. There are a variety of both instant noodles and ones you can make yourself. I will show you how to get the best from them and some secret ingredients that make them even better.

I have also put together a section on the famous Korean Barbecue; this is a common way to eat in a restaurant and great insight in to the Korean Cuisine, You can add and share your own experiences of Korean Restaurants to!

Korean drinks are very unique and some of the tastes are exceptional, from Korean soju to Ginseng tea, there is a taste for everyone. A lot have some amazing health benefits that could improve your lifestyle, I have researched and put some articles together about Korean Drinks
I hope you enjoy my site, feel free to comment on my recipes and join in the cooking competitions, and feel free to email me with any questions.
Enjoy Easy Korean Food.
Nov 16, 21 02:33 PM

Korean Donggrangttang Recipe

Oct 25, 21 03:03 PM

Dakdoritang Recipe - Hot and Spicy Korean Chicken Soup recipe

Sep 19, 21 03:50 PM

Hobak Jeon Recipe is a popular Korean side dish served during Chuseok