Naeng Myun Recipe
Cold Buckwheat Noodles
Naeng Myun is a traditional recipe that actually originates from North Korea, It became popular in South Korea following the Korean War. It has become one of the most popular summer noodle dishes, as the combination of cold noodles and tangy sauce make it perfect when you want to cool down and be refreshed.
There are 2 types of Naeng Myun, Mul Naeng Myun which can be spicy or not spicy and cold is the original from North Korea. Bibim Naeng Myun is where the South Koreans have added there twist, still cold but without the soup.
I have made both versions here:

Mul Naeng Myun
Ingredients:

2 cubes of chicken stock
3 Tablespoons of sugar
1 Tablespoon of mustard (optional)
10 Tablespoons of Vinegar (I used Apple)
800ml Water
A couple of handfuls of Buckwheat Noodles
1 Boiled Egg
1 Asian Pear
1/3 cucumber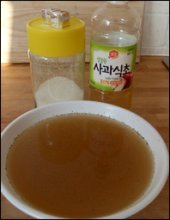 In a small cup mix 2 cubes of chicken stock with some warm water (100ml). Add this to a bowl with 700ml of cold water and add the sugar, mustard and vinegar, Mix this altogether.
Put this in the freezer for about 30 minutes until it is ice cold, but not iced solid. Boil an Egg whilst you wait and keep it for when you are ready to eat.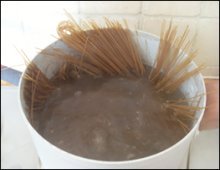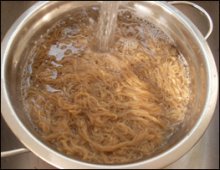 About 10 minutes before you want to eat boil the buckwheat noodles in a sauce pan for about 5-7 minutes, quickly remove and rinse well with cold water in a colander. Remove the soup from the freezer cut the egg in half, and the pear and cucumber in to slices and serve.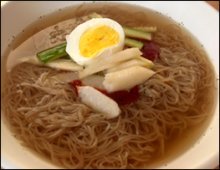 For a spicy mul Naeng Myun do the same as above, once removed from the freezer make a spicy sauce in a bowl using 1 tablespoon of gochujang, 1 tablespoon of red pepper powder, 1 tablespoon of soy sauce, 2 tablespoons of vinegar and 1 tablespoon of sugar.
Mix this all together with noodle soup and enjoy a spicy cold noodle dish.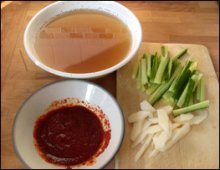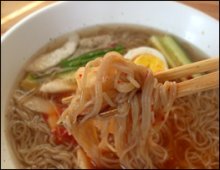 Bibim Naeng Myun
For Bibim Naeng Myun simply make the same spicy sauce as above, and simply boil the noodles for 5-7 minutes, remove and wash with cold water. Mix the sauce and noodles together and enjoy.
A really simple and quick noodle dish.
Return From Naeng Myun to Korean Noodles