Hwachae
Quick Simple Korean Dessert
When its hot and you want a sweet summer dessert, Hwachae is a must. A traditional Korean punch made with in season fruits and flower petals like watermelons in honey water or juice it's perfect in the sun.
There are probably hundreds of different types of Hwachae, with many different fruits and juices used to create lovely sweet snacks, when I was young my grandma used to use Fanta as it was cheaper than juice. I think that would be frowned upon in the modern health conscious era.
My recipe is packed with fruit and I use orange juice, making it similar to a common fruit salad. You can use most fruits and I like changing fruits depending on the season.
I have used the following ingredients:

1/2 Apple
1 Clementine
7-8 Grapes
5-6 Strawberries
2 Handfuls of watermelon
Orange juice
Water
Ice

Begin by cutting the fruits in to bite size pieces, with the watermelon try and keep the juices as you can use this. Mix together the juice and water at a 50:50 consistency and pour this in to a bowl and add the fruits and some ice.
Spoon it in to bowls and serve, really simple, quick and great tasting!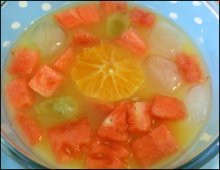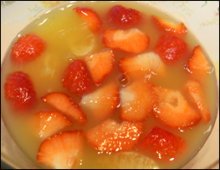 For a traditional Hwachae, put some honey or sugar in some water and leave in a fridge to allow it to dissolve and make the water cold and sweet, add your fruits and enjoy.
If you fancy a fizzy punch, replace the water or juice with carbonated water or a tropical drink like Lilt, sprite or fanta.
Watermelon Hwachae
This is a delicacy that looks great on a table, and will certainly impress your friends, it is though pretty easy to do with a bit of planning.
Take a whole watermelon and cut it in half, or just buy a half one. Remove all the melon and place this in a container and put it in the freezer, it should be quite chunky and in several small pieces.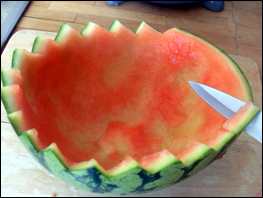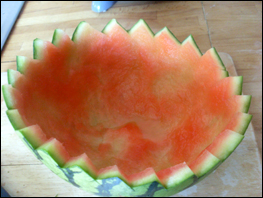 Take a small knife and cut triangles out of the watermelon as per the picture above, work your way round the melon, they don't need to be perfect or the same size as nobody will really notice once finished. Put the watermelon in a bag and put in the fridge if you wish to use the sameday or freezer to save for later
You can leave the watermelon in the freezer for several weeks. On the day you want to eat it, remove the melon pieces from the freezer a couple of hours before you want to eat to allow it to melt a little.
To serve remove the watermelon skin, and add some fresh fruit similar to the recipe at the top of this page, pour in the watermelon pieces and juices. This should fill the watermelon if not top up with some orange juice the serve!