Korean Miso Soup Recipe
How to make Den Jang Jiggae
Korean Miso soup differs from the japanese version, and is something that I enjoy making at lunchtime with some rice or noodles. My recipe is pretty quick and easy to make, I use Soy bean paste (beancurd) and then add some vegetables and cook!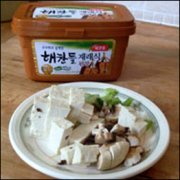 I have used the following Ingredients:
1 Litre of water
2 tablespoons of Chicken stock
1 tablespoon of soybean paste
100g of Tofu
1 mushroom
1 spring onion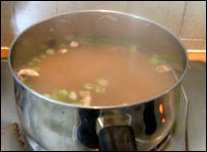 Begin by boiling the water in a saucepan, once boiling well add the chicken stock followed by the soybean paste, mix well. You can now add the vegetables, Cut them into small chunks and through them in, you can also add courgette if you have any and sliced potato.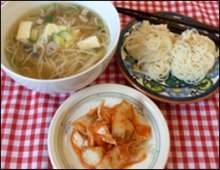 Leave until the vegetables are cooked and then serve, if you haven't added potatoes you can add noodles or rice to make it in to a full dish or without these 3 ingredients it makes a good starter or side dish.






Return from Miso Soup to Korean Soups