How to make
A Seaweed Side dish
This Seaweed side dish is great to make whilst making seaweed soup. You can then store this dish in the fridge for a few weeks and and serve cold with some main dishes when you fancy. it is slightly spicy and sour, and leaves a fresh feeling in your mouth.
I have used the following ingredients:
1 handful of dried seaweed
1 tablespoon of soy sauce
1 tablespoon of red pepper powder
2 tablespoon of apple vinegar
1 tablespoon of sugar
1 clove of garlic
1/3 of a cucumber
1/2 small onion

Begin by soaking the seaweed in water in the same was as for Seaweed soup, once well soaked drain and cut in to nice sized chunks.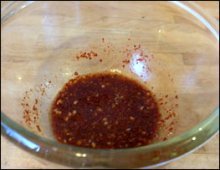 To make the sauce, finely slice the onion and put in a bowl, add soy sauce, red pepper powder, sugar, apple vinegar and crush 1 clove of garlic. Mix well and season to taste.






Grate or finely slice the cucumber and add this and the chunks of seaweed to the sauce, and mix until the cucumber and seaweed are well marinated by the sauce.







It's ready to serve put a small amount on a plate and serve with main dishes and keep the rest in the fridge.
Seaweed Side dish is great in the summer