The Korean Side dish help create the Ultimate Korean meal
Add these authentic Korean Side dishes to your Cooking
Korean Side dishes known on South Korea as banchan help to compliment your Korean Dishes, by adding variety and further flavours to your meal. Think of it like adding the vegetables to your Sunday roast, Without them there is something missing, but when added it is perfect.
The most famous Korean side dish is kimchi, but I have dedicated an entire section to this,However there are a number of other sides that you will see at Korean restaurants. These are easy to make and I will share a few of my favourite's here.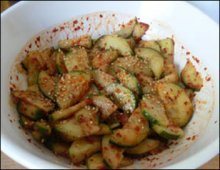 A spiced cucumber is the first Korean Side dish, cold cucumber mixed with red pepper powder results in a lovely hot salad.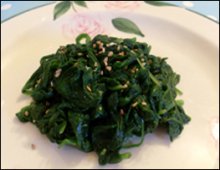 One of my favourite's is lightly cooked spinach, with soy sauce and sesame oil served cold is goes with everything Korean.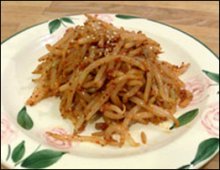 A very common side dish, one of the most popular in South Korea. Beansprouts boiled and served with a bit of seasoning, this can be either plain or spicy. Easy and delicious to make great for making your Korean meal authentic.
An interesting side I like is this one using aubergine. This is very easy to make, and I enjoy being able to make use of this often difficult vegetable. It also goes well with most main dishes.







This seaweed side dish has an interesting flavour, It is both sour and spicy. It is a refreshing side that goes well with noodles and bibimbap, it is most commonly eaten during the summer.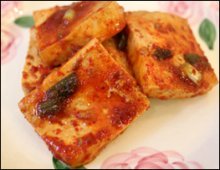 Tofu Jorim is a very common side dish, Using Tofu which is high in protein it is simple and delicious and will go with most main dishes.
Myulchi are dried anchovies, which are served as a side dish. Myulchi is tasty mixed with rice and bibimbap and adds a fish flavour to most dishes.







Chikin Mu is a side dish that is served alongside Korean Fried Chicken. Cubed white radish in a vinaigrette, which helps line the stomach after some greasy food.







Gaeran Jim is a simple and popular dish that is commonly eaten at breakfast, along with rice and other side dishes. Simply its steamed egg, with some stock and spring onion, delicious and healthy.






Tuna Courgette Sandwiches are a tasty and easy to make side dish, Pan fried courgettes with Tuna in the middle is very easy and looks great, goes with virtually everything



---