Ggakdugi Recipe
Cubed Radish Kimchi
Ggakdugi is a common kimchi in South Korea, it is made from white radishes (mooli or daikon). Simply cut in to cubes and mixed with a kimchi sauce for a delicious side dish, mooli's are generally quite sweet and crunchy and I prefer shorter roots as suppose to the larger roots which tend to be slightly bitter. However any mooli would suffice for this kimchi.
Commonly eaten as a simple side dish. I enjoy this kimchi as an alternative as its got a crunchy texture and adds some variety to my kimchi diet.
I have used the following ingredients:

2 White Radish (Mooli)
2 Cups of water
3 Tablespoons of rock salt
1 Tablespoon of sugar

4 Tablespoons of Red Pepper Powder
3 Tablespoons of Fish Sauce
3 Cloves of Garlic
1/2 Pear
1/2 onion
2 Spring onions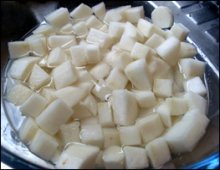 Peel the radishes and cut in to cubes, this will take a few minutes if the radishes are large. The cubes should be fairly small no bigger than your finger tips I would have thought. In a bowl put 2 cups of water, add 3 tablespoons of rock salt and 1 tablespoon of sugar. When this has dissolved add the radish and allow to soak for about 1 1/2 hours.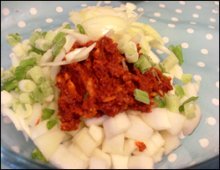 Check the taste after about 60 minutes and it should be quite salty in flavour, and leave for another 30 minutes or so. Drain the water after this, thinly slice the onion and spring onion. In a bowl grate the pear and crush the cloves of garlic, mix with the red pepper powder and fish sauce to make a paste.
Add this paste to the radish along with the onions and mix this altogether, Once mixed you are done! You can eat straight away and keep in the fridge and serve alongside anything you like as a side dish.