Korean Kimchi
Everything you need to know with Kimchi Pictures
In its simplest form, Korean Kimchi is fermented cabbage (Chinese cabbage) with red pepper powder. These pages are dedicated to this amazing food. I have some Kimchi recipes which can be made at home, with step by step pictures.
There are however a number of different types of Kimchi using different vegetables giving some very unique flavours. It is used mainly as a Side dish to accompany rice and main dishes, but is also used to make soups, flavour noodles, mix with Bibimbap and you may even see this as a Pizza topping! Fancy a Kimchi pizza?


Here is a very simple kimchi recipe, You can do this at home, Its a great food as its used to make soups and as a side-dish. In fact its eaten almost every day by South Koreans, My recipe is also very simple, I am sure you can make it at home.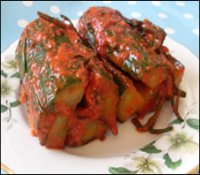 Cucumber Kimchi is a great side dish, easy to make and spicy this is a great simple Kimchi that you can make at home and serve as a side dish.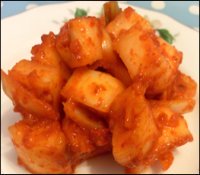 Ggakdugi is a Kimchi made from cubed white radishes. Simple to make and a nice and easy side dish to keep in the fridge, this dish is quite sweet and has a nice crunchy texture.








Oyster Kimchi is similar to Mat Kimchi, however it also contains oysters and other seafood's. Most commonly eaten in towns by the coast where seafood is fresh and available.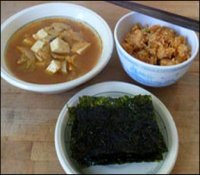 Kimchi Jjigae is a famous soup, its spicy and warm. Simple to make and I like this as a main dish to accompany Bulgogi. It's one of my personal favourites








If you want to make a lovely warm lunch, this is perfect. A warm noodle soup that I love to eat in winter especially when its really cold outside. Its really quick to make and makes good use of South Korea's famous food.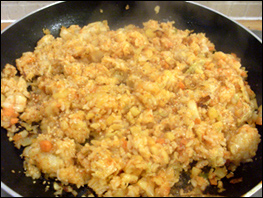 Kimchi Fried Rice is a staple Korean food, associated with everyday Koreans as it is a cheap food that has been eaten by all for the last couple of centuries. Its easy to make and great when you are in a hurry.






Click here to find out about the different types, and how these vary, the different vegetables that koreans use. You will also see that some types are generally used in different ways or go better with certain dishes.







The health benefits of eating this food are remarkable, it is one of the top 5 super foods and this is why. Packed with vitamins, prevents disease and increases immunity are just some of the benefits from enjoying this dish on a regular basis.

---