Jajang Myeon Recipe
How To Make Korean Black Noodles
Jajang Myeon is a black bean noodle dish made from jajang sauce, black noodles are very common in South Korea and come in a variety of forms and can be purchased in instant packs, ordered as a takeaway or made at home.
A firm kids favourite Jajang Myeon is a not spicy instead it has a sweet sort of bean like taste, and the kids will definitely enjoying making a big mess with the black sauce.
When making this dish you can use any ingredients you fancy, It's very common to see seafood, lots of vegetables and meats added to meet your fancy.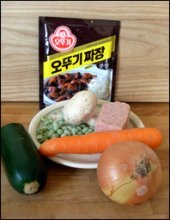 For a basic recipe I have used the following Ingredients:

100g of Jajang powder
1 Onion
1 Carrot
1 Mushroom
1/2 Courgette
3 tablespoons of peas
100g of Spam
A couple of handfuls of noodles




You can purchase jajang sauce in powdered packets or in a black box, the powdered version is much easier to work with and I always use this, start by cutting vegetables and spam in to chunks, if you are using seafood like prawns there is no need to cut these.
Boil the noodles in a saucepan as per the instructions on the packet, I have used rice noodles but you could use any type you have even spaghetti. At the same time cook the vegetables...
Put some oil in a hot pan, and start by frying onion and carrot, after a few minutes add the courgettes, mushrooms and spam. Keep this on heat for a few minutes before adding about 500ml of water, allow this to boil until the carrot is soft.





In a measuring jug or bowl mix 100ml of water with the jajang sauce powder until it is dissolved. Remove the saucepan from heat and add the sauce, mix well and return to heat for a further 3 to 4 minutes whilst continuing to stir the mixture.




Drain the noodles, and put on a plate. Serve with the sauce on top of the noodles, this is great for lunch and you could add some side dishes like Kimchi or spicy cucumber if you wanted to.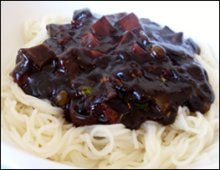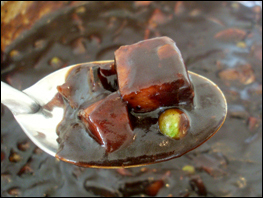 Return from Jajang Myeon to Korean Noodles