Shin Ramyun
Traditionally Korean hot noodles in minutes
Cooking these Shin Ramyun noodles takes less than 5 minutes, great if you want a quick meal in winter to warm you up.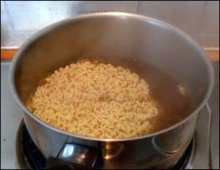 To make these noodles, simply boil some water in a saucepan, the more water you use the less spicy the soup will be ultimately. If you are cooking more than one, you can cook them all together.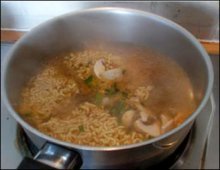 Once the water is boiling open the sachets that come with the noodles and empty into the water, stir and then pop in the noodles. These take 3-5 minutes to cook.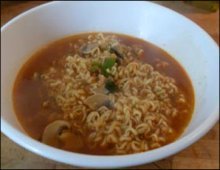 I often add vegetables like mushrooms and courgettes, and you can also pop in an egg. Once all is cooked put in a large bowl to enjoy, You can add some rice to the soup after you have eaten the noodles and don't forget to drink the soup!.
Return from Shin Ramyun to Korean Noodles