Spinach
A typically Korean side dish that goes with everything
Another simple side dish to add to your fridge, this Korean spinach is lovely to eat and goes with nearly every korean main dish.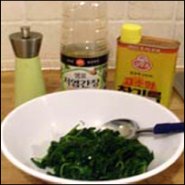 I have used the following ingredients:
350g Spinach leaves
1 tablespoon soy sauce
Pinch of salt
1 teaspoon sesame oil
Sesame seeds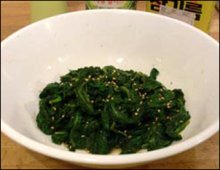 To start boil the spinach leaves quickly for about 10 seconds so the are lightly wilted, drain and wash with cold water. Squeeze out the water and put in a bowl.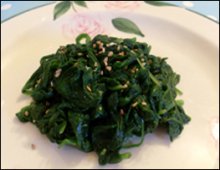 Add a pinch of salt and mix well before adding the soy sauce and sesame oil. Mix well and put in a container, when serving place a small amount on a plate and sprinkle sesame seeds on top. You can add this to vegetable dishes such as bibimbap or serve as a side dish to Bulgolgi and others.




Return to Korean Side dish