U-Dong Flavour Noodles
A Great Korean Noodle
U-Dong flavour noodles have a slightly seafood flavour, these are very mild in terms of spice, and are very easy to cook. A great instant noodle for all the family.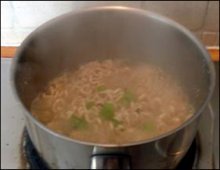 This Korean noodle is very straight forward to cook, to begin boil some water in a saucepan. Add the noodles, and a couple of minutes later throw in the sauchets,to finish off the noodles.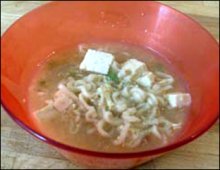 Pour the contents in to a bowl, I have added Tofu whilst cooking, but thats just my style You could potentially add seafood sticks, prawns, mussels or squid if you wanted and turn this in to a fantastic seafood soup.
Make sure you clean your bowl as the soup tastes great to!




Return from U-dong noodles to Korean Noodles