Make at Home
Korean Fried Chicken Recipe
Here is my Korean fried chicken recipe, you can make this at home quite easily and Korean styled chicken is fast getting a reputation as a tasty alternative to the famous KFC fast food restaurants.
In South Korea we tend to eat this at fast food restaurants, my family often get a box in the evenings as a late night snack. When cooked in Korea the chickens and normally fried whole, and sold this way or cut up at your request, served alongside the delicious dipping sauces and a mooli side dish. This goes especially well with cold Korean beer.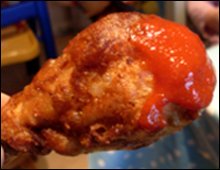 I have used the following Ingredients:

1kg of chicken legs
5 tablespoons of soy sauce

Batter
50g of plain flour
50g cornstarch flour
1/2 teaspoon of baking powder
salt and pepper
100ml of water

Sauce
3 Tablespoons of Tomato Ketchup
1 Tablespoon of Gochujang
1 Tablespoon of Sugar

Begin this dish by putting the chicken legs on a roasting dish, put about 5 tablespoons of soy sauce on the chicken, put in the oven and allow to cook at 220 degrees for about 45 minutes, this will cook the chicken and give it a great flavour.
In a bowl mix the flour with the cornstarch flour, add about half a teaspoon of baking powder and season with a pinch of salt and pepper. Start by adding about 100ml of water to this batter, you may need a little more if the batter is too thick, I would say that no more than 150ml would be required.
Once the chicken is cooked, leave to cool for about 5 to 10 minutes and dab dry the chicken with a piece of kitchen towel. Now dip each piece in the batter so that it is well covered, In a reasonably deep sauce pan boil some oil and pop in the chicken to fry for a couple of minutes until a nice crispy brown colour. It is easier to fry the chicken legs a few at a time, and use chopsticks to remove the chicken.
Make the sauce in a bowl by putting about 3 tablespoons of tomato ketchup and adding 1 tablespoon of gochujang sauce mixed well with a tablespoon of sugar. Serve alongside the chicken, this sauce is delicious and really makes the Korean fried chicken stand out.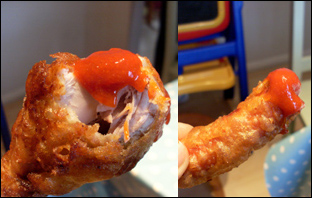 Dip the chicken well to get the full enjoyment, I have also fried some frankfurter sausages that my kids love.