Make at Home
Korean Fried Chicken Recipe
Here is my Korean fried chicken recipe, you can make this at home quite easily and Korean styled chicken is fast getting a reputation around the world as a new way to enjoy fried chicken.
Called Dakgangjeong, Korean fried chicken is a popular takeaway or late-night dish for Koreans. In simple terms its deep-fried chicken, battered and then covered or dipped in spicy Korean sauce
My family often gets a box in the evenings as a late-night snack. When cooked in Korea the chickens are cooked and fried whole and sold this way or cut up at your request, served alongside the delicious dipping sauces and a mooli side dish. This goes especially well with cold Korean beer. For ease I have used chicken legs, and thighs but you can use any part of chicken for this.
I have used the following Ingredients:
1kg of chicken legs/thighs

5 tablespoons of soy sauce 

1 tablespoon of red pepper powder

1/2 tablespoon of sugar

Garlic paste or 3 cloves of garlic

Pepper to season
Batter
Sauce
3 Tablespoons of Tomato Ketchup

1 Tablespoon of Gochujang

1 Tablespoon of Sugar
Begin this dish by putting the chicken legs on a roasting dish, put about 5 tablespoons of soy sauce on the chicken, sugar, red pepper powder, garlic and pepper to season the meat. Then put in the oven and allow to cook at 220 degrees for about 45 minutes, this will cook the chicken and give it a great flavour. Soy sauce will flavour the meat and be cooking it  first speeds up the frying time and reduces the risk of under cooking the chicken. Once the chicken is cooked, leave to cool for about 5 to 10 minutes and dab dry the chicken with a piece of kitchen towel.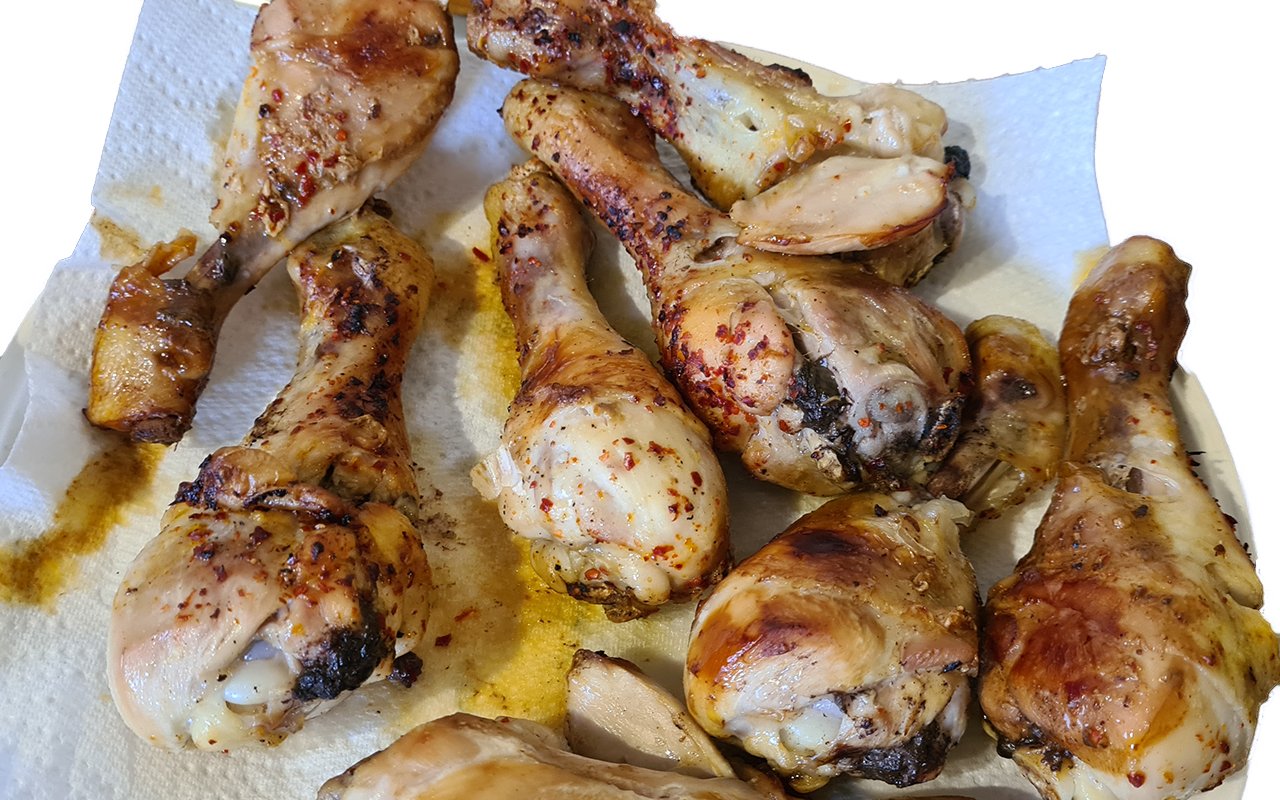 In a bowl mix the flour with the cornstarch flour, add about half a teaspoon of baking powder and season with a pinch of salt and pepper. 
Start by adding about 100ml of water to this batter and stirring it well. you may need a little more if the batter is too thick, I would say that no more than 150ml would be required, you are looking for a nice consistency for the batter so it will coat the meat, too runny and it won't stick and too thick and it's difficult to coat the meat.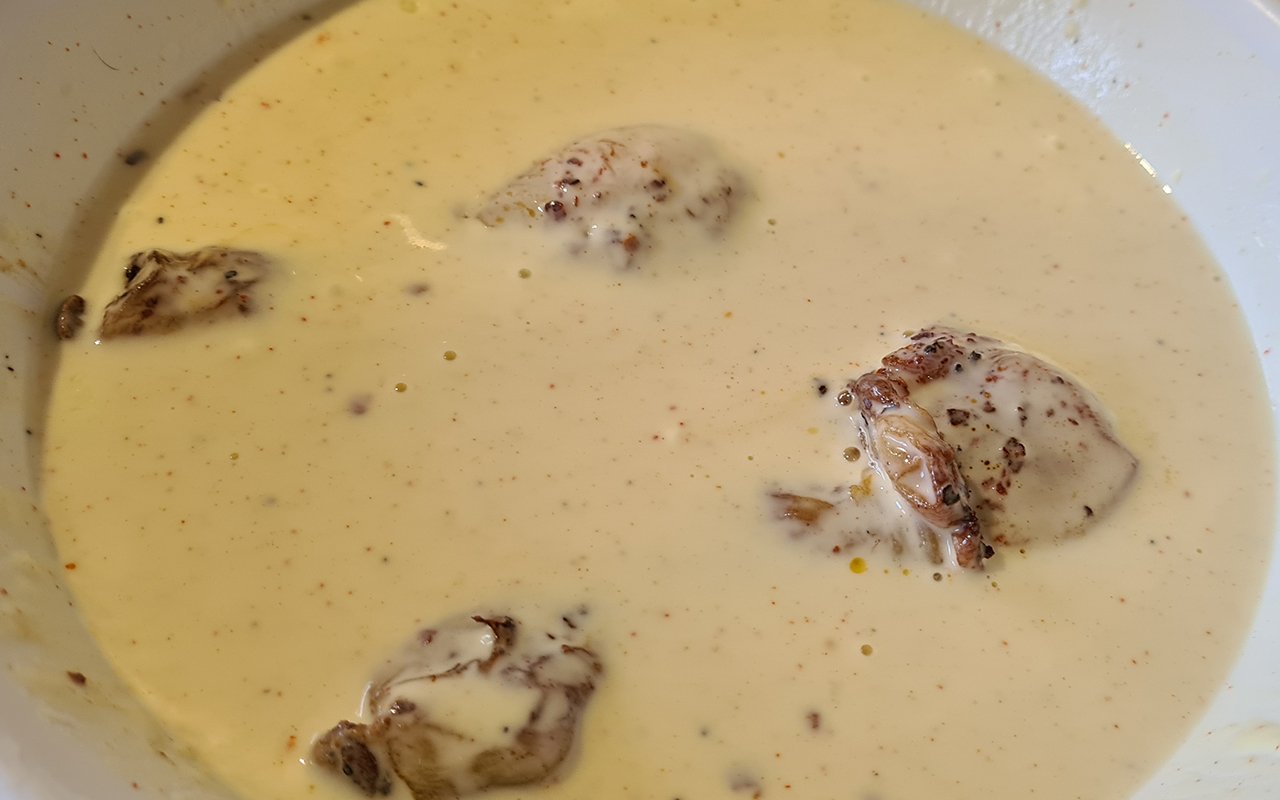 You need to use a large saucepan, and a decent amount of oil. I tend to use sunflower oil. Bring this to boil, it will need to be hot to fry the chicken quickly and get a nice crispy batter. 
Once its ready, put the chicken in the pan and fry for a 5 – 10 minutes until a nice crispy brown colour, it will get quicker as you cook them. It is easier to fry the chicken legs a few at a time, and use chopsticks to remove the chicken, once they are cooked pop on a plate with some kitchen towel to remove excess oil.
Pro-tip - If you want a really crunch batter, you can double coat the chicken with batter. To do this coat with batter and fry for a couple of minutes. Remove the chicken and coat with batter again and then back in the pan of oil. This will give you 2 layers of batter and a real crunch.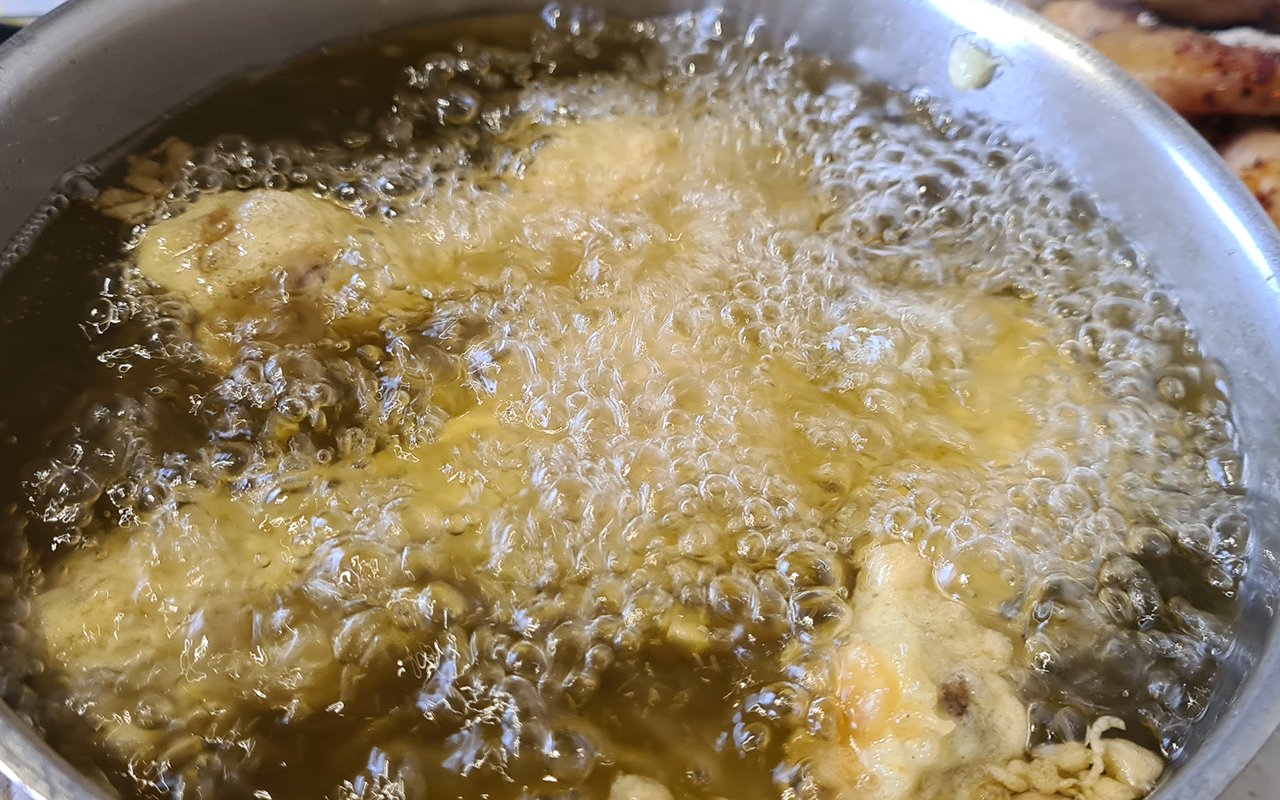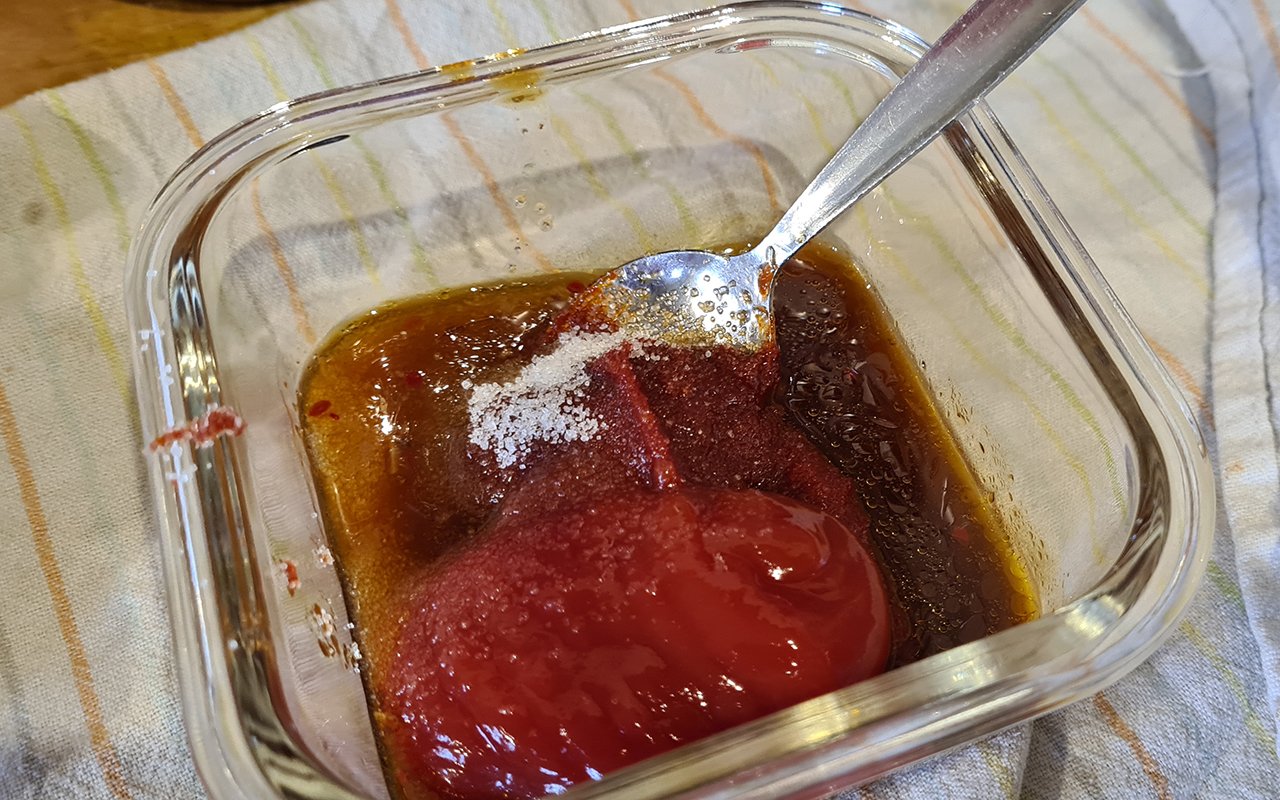 The Sauce
Make the sauce in a bowl by putting about 3 tablespoons of tomato ketchup and adding 1 tablespoon of gochujang sauce mixed well with a tablespoon of sugar, and a splash of hot water.
It's the sauce that really makes Korean Fried chicken stand out, you have 2 options with the sauce, you can serve is as a dip and dip your chicken or if you want a full Korean taste, smother the chicken in the sauce and fry in a pan for a few minutes.
This will give your chicken a sticky coating packed with flavour; I also mix in some almonds with the sauce to give it some texture.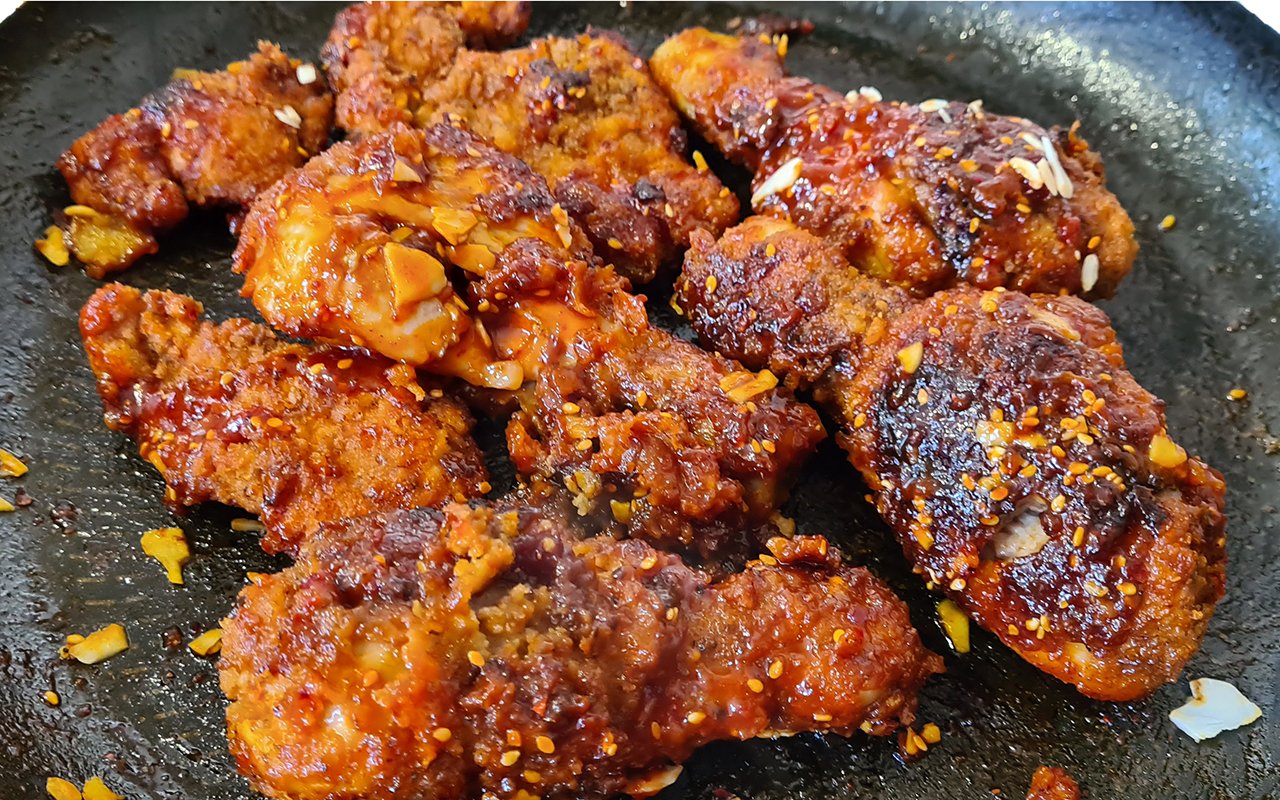 Serve with sauce, and enjoy. This dish is best enjoyed with just simple rice or Chikin Mu, and beer or a fizzy drink is a must.
Let me know how you get on.