Korean Rice Cake Soup
Enjoy The New Year
Rice Cake soup known as ddukguk is a traditional dish eaten to celebrate the Korean new year (same as the Chinese). It is made from stock with thinly sliced rice cake and topped with seasoned seaweed paper and sliced egg, we eat it on new year's day as we believe it will bring us good luck and by eating a bowl of rice cake soup you will be a year older, and my grandmother used to say if we ate 2 bowls of soup we would be 2 years older this year as a joke.
There are many types of ddukguk, I quite enjoy adding Korean dumplings (mandoo), and different meats like chicken, beef, pork and fish broths are quite common, for simplicity I have used chicken stock which makes this easy to make at home, I will be uploading some stock recipes shortly which you can use as a base for all soups instead of chicken stock cubes.
I have used the following ingredients (3-4 people):

1.5 litre water
3 cube of chicken stock
3-4 Setang seaweed
Salt and pepper
2 handfuls of rice cakes
2 Eggs
10-15 Mandoo

This is my preferred rice cake soup recipe, start by putting about 1 and 1/4 litres of water in a saucepan along with 3 to 4 pieces of Setang seaweed and bring this to boil, In a small cup or bowl put about 250ml warm water and add 3 cubes of chicken stock and dissolve these with a fork before adding to the water.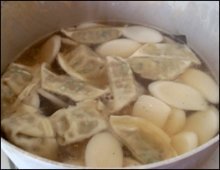 Once it is boiling well add the Korean dumplings (mandoo), and season the broth with some salt and pepper if required. Boil the mixture for about 8 to 10 minutes before adding rice cakes and allow this to continue to boil for another 10 minutes or so.




In a small bowl, whisk an egg and then turn off the heat for the soup and add the egg. Using a fork stir the sauce for a couple of minutes until the egg has fluffed up. Serve hot with some seaweed on top.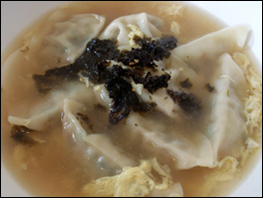 Traditional Korean Rice Cake Soup
Is made similar to the above without dumplings or egg, It is often made with a meat broth like beef and topped with seasoned seaweed and fried sliced egg. I will make this shortly.
Return from Rice Cake Soup recipe to Korean Soups