My own and unique
Vegetable Bread Recipe
Everyone who has tried my vegetable bread loves it, I make it for my kids and often for picnics. The advantage of this recipe is that you make the entire bread from scratch so you know what's in it and you can freeze some and keep for later.
I have used the following Ingredients:

Bread
400g of strong white flour
pinch of salt
2 tablespoons of Sugar
100g of butter
220ml of milk
7g sachet of fast action yeast

Vegetable filling
1 Courgette
2 Carrots
1 Onion
2 Mushrooms
2 tablespoons of Mayonnaise
Grated Cheese

Begin by making the dough, put the flour, sugar and yeast with a pinch of salt in a bowl and mix well. Then add the butter mix and add the milk and mix again. Finally cover and leave in a warm place for a couple of hours until it has doubled in size.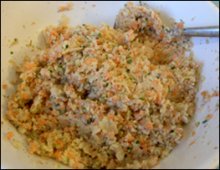 Put all the vegetables in to a food processor and cut in to small pieces, now it's important to squeeze the mixture and drain the excess water, put the vegetables in a bowl and add 2 tablespoons of mayonnaise and mix well.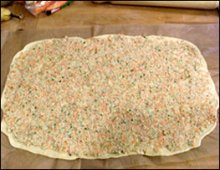 Take the dough and roll until thin and spread the vegetable mix over the bread, it is important to evenly spread the vegetable mix over the dough at this stage. Take one end of the dough and carefully role the dough similar to rolling kimbap or sushi.





Once you have rolled the dough, cut the dough in to slices about 1cm thick and place on a sheet of baking paper ready for the oven. You may need to cook in batches, I normally cook in three separate batches one after another.
Preheat the oven to 190 degrees, place a tray with the slices on in the shelf for 20 minutes, after 20 minutes remove and add cheese to the top of each slice.
Then cook for a final 10 minutes, until the bread is golden brown.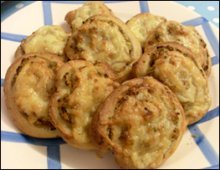 After this time they are ready to eat, delicious hot or cold. You can store in the fridge for up to a week or the freezer for over a month. Vegetable bread is great for snacks, lunch or picnics, or a very healthy party food that kids love.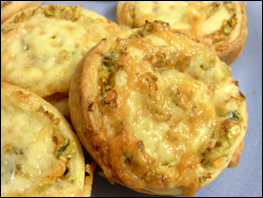 Top of Vegetable Bread
Return to Korean Snacks and Desserts