Fish Jeongol Recipe
I like making fish stews, known as 'fish jeongol' in South Korea. Its a hot spicy dish that is really tasty, it tastes best with oily fish like mackerel, I have used tinned sardines here, which you can get from all supermarkets meaning this dish is very easy to make at home.
Korean Jeongols make an impressive centre piece to a Korean feast, cook on the table on a small gas burner to really show off and get everyone in to the mood for Korean cooking. Served alongside some side dishes and rice, or the non spicy bulgogi makes a great meal.
I have used the following Ingredients:

2 tins of Sardines
2 handfuls of bean sprouts
4 tablespoons of Kimchi
2 Spring Onions

Sauce
2 tablespoons of Soy sauce
1 tablespoon of gochujang
1 tablespoon of red pepper powder
1 tablespoon of sugar
1 teaspoon of sesame oil
1 clove of garlic

Begin this dish by half filling a medium sized saucepan with water and bring this to boil, Slice the spring onion and put to one side. In a small bowl crush a clove of garlic and add all the other ingredients for the sauce and mix well.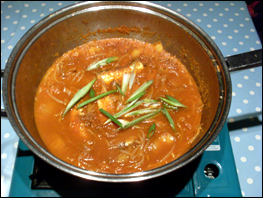 Once the water is boiling add about 2 handfuls of bean sprouts and 3 to 4 tablespoons of Kimchi, try to include as much of the sauce as possible, after a couple of minutes add the sauce followed by the sardines and then the spring onion.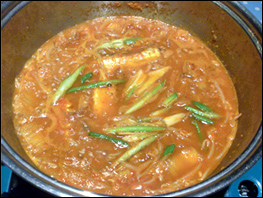 Now if you want to cook the dish at the table now is the time to move it, place in the centre of the table on a gas burner. As I have used sardines the joengol will be ready to eat in about 5 to 10 minutes. Serve in bowls and eat straight away for a tasty Korean Stew!