Ojingeo Bokkeum
Spicy Korean Squid Recipe
A hot and spicy Ojingeo bokkeum can blow you away, the lovely heat combined with the chewy texture of the squid will have you coming back for more. This squid recipe is very authentic and you will see this dish available everywhere in South Korea.
It is very popular among Koreans, and is often served on a bed of rice, you can make this dish as hot as you like by adding more gochujang, my recipe is quite hot anyway.


I have used the following Ingredients:

3 Small Whole Squid
1/2 courgette
1/2 Carrot
2 mushrooms
Rice
Sauce
1 teaspoon of sesame oil
2 tablespoon soy sauce
1 tablespoon of gochujang
1 tablespoon of honey
50 ml of water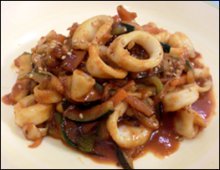 Begin making this dish but cutting the squid in to slices, also cut all the vegetables in to slices aswell. Put some oil in a frying pan, and start by frying the carrot followed by the other vegetables, then add the sliced squid, these need 3-5 minutes.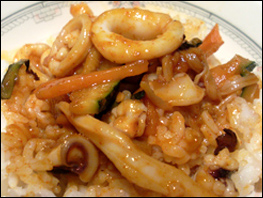 In a small bowl mix all the ingredients for the sauce, if it is quite thick add some water up to 50ml. Add this to the cooked squid and vegetables, mix well and fry for a final few minutes. Serve on a plate of rice for a delicious Korean dish.



Top of Ojingeo Bokkeum