Chapsal Bulgogi Recipe
This is a modern twist on the Korean classic dish, Chapsal bulgogi is a luxury korean food often eaten with high quality cuts of meat where you really want to enjoy the taste of the meat. Chapsal stands for Rice flour and is what the meat is coated in giving it a unique texture and helping it to melt in your mouth.
Chapsal bulgogi has been preserved for use in the upper classes of Korean culture for many years, often served as a speciality dish to foreign diplomats and for important meals. It is though very easy to do and a great dish if you are looking to impress friends and family with your Korean cooking
I have used the following Ingredients:

300g of beef - best to use a good cut like sirloin.
100g of glutinous rice powder/flour

Spring onions (Pamuchim)

4-5 Spring onions (green onions)
1 Tbs red pepper powder
1/2 Tbs sesame oil
1/2 Tbs roasted sesame seed
1 Tbs sugar
2 Tbs Apple vinegar

Dipping sauce

2-3 Tbs soy sauce
1 tsp sugar
1/2tsp sesame oil
1/2 tsp sesame seed












The meat for bulgogi is always thinly cut, just a few millimetres, you can do this yourself although you local butcher should be able to do it for you, my local butcher does this happily. Cut the meat in to pieces about 5 centremetres in length and season with salt and pepper. On a plate pour out the rice powder and coat both sides of the meat.
Take the spring onions and slice these thinly, rinse them in ice cold water for about 3 minutes, drain the water, but keep the spring onions in a bowl. In a small bowl mix together the ingredients for the pamuchim and add this to the bowl with the spring onions and mix together.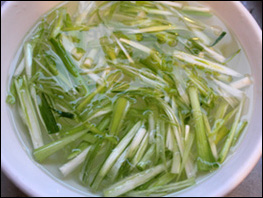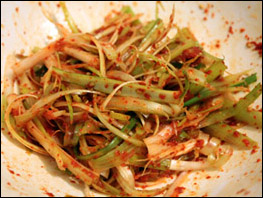 Then put some oil in a frying pan and bring this to heat. Once the pan is hot put the meat on, as its thin it should cook pretty quickly. This is a sort of dish I like to cook and eat straight away. So once some meat is cooked take it off the pan and eat and put some more on.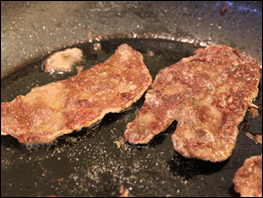 To eat, take a piece of meat and wrap it around some spring onions and enjoy.
You can make a dipping sauce to add a bit more flavour, simply put 2-3 tablespoons of soy sauce in a bowl and a teaspoon of sugar and a teaspoon of sesame oil. Mix this together and sprinkle some sesame seeds on top. Delicious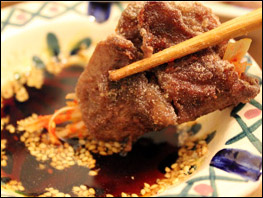 Return from Chapsal bulgogi to Korean Recipes