Korean Barbecue
A Real Tradition
The Korean Barbecue is the way in which meat is grilled. Mainly Beef, pork, chicken and fish, along with vegetables. These dishes are normally prepared and cooked at the table often by the paying guests.
The most popular dishes tend to be Galbi (spare ribs), Bulgogi (beef) and pork belly. These are cooked on hot grills built in to the tables. See below if there is a Korean Restaurant near you.
Korean Barbecue at Home
You can create an authentic Barbecue at home.
I have used a single Gas burner, with a hot plate to recreate the barbecue. You can decide what meats and vegetables you want to use, as a guide I recommend that meat is cut as thinly as possible.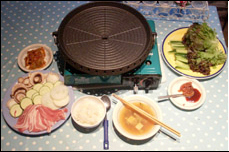 I have used the following ingredients:

Pork Belly
Courgettes
Mushrooms
Kimchi
Gochujang sauce

This is then served with some lettuce and cucumber to make some wraps, rice and a miso soup. You can though use a variety of meats and vegetables really depending on what you have or what you like.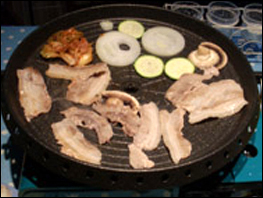 It is easy to cook, once the plate is hot. Add the vegetables and meat to the barbecue, this should cook very quickly and will taste great if you eat straight away.







Once cooked pop some rice and gochujang in some lettuce add the meat and vegetables straight from the barbecue to make a wrap, if there is a group of people share the meat around will enjoying the soup in between. This is a simple and easy way to a traditional Korean Meal.
I would also recommend putting some sliced garlic on the barbecue, these go great in the lettuce wraps and improve the flavour.


Korean Barbecue Restaurants
Korean barbecue, just the mere mention of it to diners who have tasted the exquisite balance of spicy and salty flavours with the to-die for contrasts of tastes, textures and temperatures makes you yearn for more
Keep in mind that this is not Texan barbecue where the meat is the star of the show. True to the Korean tradition in food, even the richest foods are made healthier by the addition of a variety of vegetables including garlic, lettuce, cucumbers and peppers. But our tongues are getting ahead of our tummies.
Barbecue ala Korean was not invented by a Texan. Restaurants in the United States - and in other countries outside of the two Koreas, for that matter - offering Korean barbecue were introduced by Korean immigrants. We can surmise that these restaurants began as family-owned enterprises with the Korean community as their main clientele. With the multicultural environment in most urban areas, these restaurants became more and more popular with patrons until the word spread about their goodness.
And in keeping with the familial and convivial atmosphere of eating Korean food, you and your group of family and friends will eat around a table filled with all sorts of meat like pork, chicken and beef, seafood and vegetables. You will not find a harried and hurried atmosphere in these restaurants as the Korean barbecue is designed to be savoured, enjoyed and then remembered in all its spicy, salty and sometimes sweet glories.
In the restaurant, your waiter will place an iron basket filled with fiery charcoals upon which the various meats, seafood and vegetables will be grilled. You will be dealing with fire on the table and fire on your mouth with Korean style barbecue.
You have a choice of marinated and non-marinated meat cuts. For example, marinated beef cuts are called galbi (ribs) and bulgogi while the non-marinated cuts are chadol baki and anshim gui. If you cannot ascertain exactly what that strip of meat comes from, do ask your more experienced friends.
You will then grill the meat and seafood slices of your choice on the grill. You can also add the garlic since Koreans consider it in good taste to eat cooked instead of raw garlic. Then, when the meat slices are done according to your level of rareness, the crispy lettuce leaf will be filled with the various fillings to make a sandwich of sorts.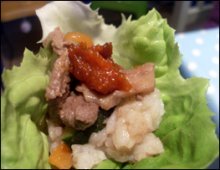 You should not stuff the banchan (side dishes) into the sandwich since these are made to be savoured on their own. Instead, keep your lettuce fillings simple - the bean paste (Ssamjang), followed by the meat or seafood slices, then topped with the shredded scallion, leek and garlic.
You may also dip the cooked slices into the many sauces before wrapping in the lettuce leaf. Because of the opportunity to experiment with the tastes and textures of the food, the Korean barbecue is very popular in and out of Korea. You must simply try it as, like kimchi, you can and will get addicted to it.


---
Return to Korean Food Homepage