Gamjatang Recipe
Pork Spine Soup
Gamjatang is a traditional Korean bone soup or stew, made from pork spine and potato. Bone soups are popular in South Korea and originate from ancient times when meat was scarce and expensive, As most Koreans couldn't afford meat, they used bones to make soups and stews to get meat flavours and more protein in their diet.
Gamjatang is traditionally made with pork spine bones and the surrounding scraps of meat, It may be difficult to get just the bone from a butcher so you can substitute for neck bones or buy a loin of pork, remove the meat and save for a roast and use the bone for this stew.
I have used the following Ingredients:

500g of pork spine
2 Litres of water
7 cloves of garlic
1/2 leek
1/2 onion
10 black peppercorns

Vegetables for stew

1/2 onion
2 Big potato
1 handful of mushrooms
1 handful of bean sprouts
1 handful of kimchi
1/2 leek

Sauce

3 tablespoons of red pepper powder
5 cloves of garlic
2 tablespoons of soy sauce
1 tablespoon of soju (you can use vodka)
1 tablespoon of soy bean paste
½ tablespoon of sugar
1 tablespoon of water
1 tablespoon of ground sesame seeds
Some salt and black pepper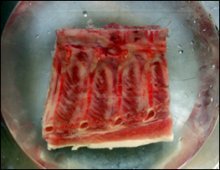 This dish does take time and preparation to make; the rewards though are worth it. Begin this stew by soaking the pork bones in a bowl of cold water, this is to clean the bones and remove the blood. If the meat has been well hung you may not have to do this as long as normal meats. Leave this in a cool place for a few hours, drain and replace the water a couple of times during this period the water should become cloudy after a time, if not try and break up the bones.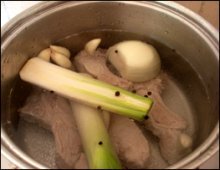 To make the soup put some fresh water in a saucepan about 2 litres, and add the bones, boil it for 5 minutes, and drain the boiled water. Add another 2 litres of water and boil the bones again with 7 cloves of garlic, 10 black peppercorns, ½ an onion and ½ a leek. Bring this to boil and then allow to simmer for about 2 hours. As the water reduces, pour a cup of water into soup every 20-30 minutes, I used about 7-8 cups of water in total, this will create a great tasting stock. If there is any meat on the bones remove after about an hour to avoid over cooking and keep for later. Remove all the vegetables and bones once the stock is made.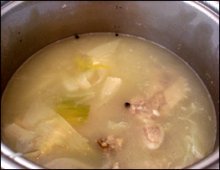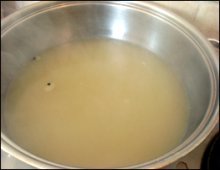 As gamjatang is spicy take a bowl and mix together all the ingredients for the sauce. Put 3 tablespoons of red pepper powder, crush 5 cloves of garlic, add 2 tablespoons of soy sauce, 1 tablespoon of soju, 1 tablespoon of soy bean paste, ½ a tablespoon of sugar, and finish with a pinch of salt. Make sure this is all mixed well and has formed a paste.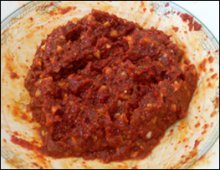 For the soup cut the potatoes in to chunks, and slice the remaining half an onion and leek, add these to the broth along with the mushrooms, bean sprouts, meat and kimchi (or boiled Chinese/napa cabbage.) Bring the mixture to boil and add the sauce, along with 1 tablespoon of ground sesame seed and 1 teaspoon of ground black pepper. Cook the whole stew for about 25 minutes until the potatoes are soft and cooked.
Once cooked serve, hopefully there will be a bit of meat on the bones which will be soft and tender and the potato and onions should mean that there is enough to fill 4 people at least and you can add some rice or serve with some side dishes if you want a feast.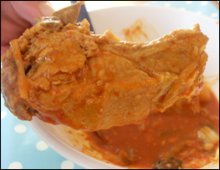 Return from Gamjatang Recipe to Korean Recipes
HTML Comment Box is loading comments...