Hobak Jorim
Hobak Jorim is a side dish usually made in the summer as courgettes (zucchini) are in season. Korean courgettes (zucchini's) are more thinner and lighter than western courgettes and much sweeter. This courgettes dish is lovely to eat just with hot rice and goes with most of main dishes.
I have made a spicy and a non spicy dish and both are simple to make and will go with virtually any other dish.
A Jorim is cooked in about a centimetre of water in a pan, it's cooked/fried until the water has evaporated from the pan, Common jorim's include beef jorim, gamja jorim (potato) and tofu jorim.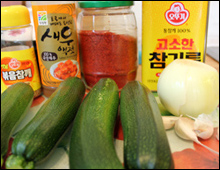 I have used the following ingredients:
4 Courgettes (zucchini)
1 large onion
4 cloves of crushed garlic


2 tablespoon soy sauce
2 tablespoon shrimp sauce
1 tablespoon sesame oil
1-2 tablespoon of red pepper powder (spicy)
salt and pepper
100ml water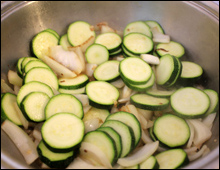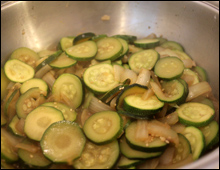 ---
To start slice the courgettes and cut the onion. Preheat a big sauce pan and add 1 tablespoon of sesame oil. Once hot, put the sliced courgettes and onion into the pan and fry them about 5 minutes then add water to a depth of a centimetre and 2 tablespoons of soy sauce, 2 tablespoons of shrimp sauce and garlic, allow this to simmer for about 10-15 minutes until soft, make sure you stir them regularly.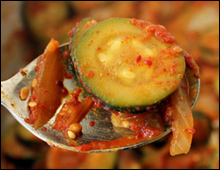 ---
Add a pinch of salt and pepper for seasoning. When the courgettes are cooked, take out half and put in a container (This is the non spicy dish). To make a spicy dish, simply add 1-2 tablespoon of red pepper powder and mix well.
When serving place a small amount on a plate and sprinkle sesame seeds on top. You can add this to vegetable dishes such as bibimbap or serve with any main dishes.
Return from Hobak Jorim to Korean Side dishes