Gaeran Jim
Steamed Egg Side Dish
This is a simple dish that is commonly eaten at breakfast along with other side dishes and rice, it is also sometimes eaten in the evening as a side dish. Made from eggs, stock and shrimp sauce this is a tasty way to eat eggs and a nice healthy start to the day.
I have used the following ingredients:

3 Eggs
200ml of stock
1 Teaspoon of fish sauce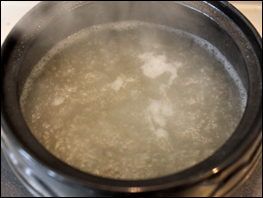 I have made this dish using a Korean clay pot, if you don't have one you can use a small saucepan, Start by bringing about 200ml of stock to boil, I have used homemade chicken stock, but water with a 1/2 a stock cube will be fine.





In a small bowl, crack and whisk 3 medium eggs together with a fork, and then once the stock is boiling, season with a teaspoon of shrimp sauce (you could use fish sauce or a pinch of salt) add the egg, stir this gently a few times with a fork. It will come back to boil fairly quickly and when it does reduce to a medium low heat and cover with a lid.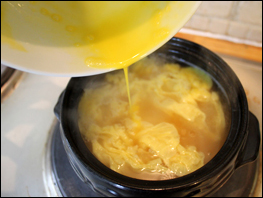 Leave for about a minute, then remove the lid. Push down around the sides with a fork so the water reduces and if there is too much, remove some with a spoon.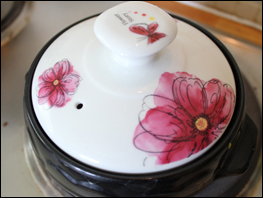 Put the lid back on and leave for another minute, after which the egg should have risen and be ready to eat. If it hasn't leave for another 30 seconds or so after which it should be done.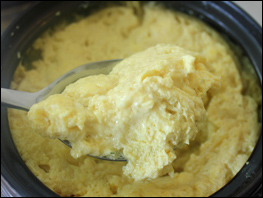 Serve with some dishes and rice, this would often be part of a typical Korean breakfast.


Return from Gaeran Jim to Korean Side dishes