Tuna Courgette Sandwich

Delicious Korean Side Dish
Tuna Courgette (Zucchini) Pancakes or sandwiches (Chamchi Hobak Jun) are a popular Korean side dish and is generally served with main meals. It is common to see variants of this in big celebrations such as new years or Chusuk (celebrating Harvest) in Korea as they are easy to make, look great and taste fantastic.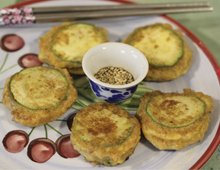 After I have made a batch of these, I will keep in the fridge for a couple of days and serve alongside main dishes, rice and noodles. Best served warm, I would refry these again before serving a second time.
I have used the following ingredients:
1/2 courgette (Zucchini)
1 tin of tuna(drained)
2 Tablespoons of plain flour
2 eggs
Salt and Pepper
Optional: chopped red pepper or onion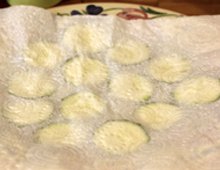 Start by thinly slicing your courgette (zucchini), try to keep the slices to about 0.3 of a cm, too thin and they will break and too thick they won't cook properly. Then lay them out on a kitchen towel to dry, lightly sprinkle some salt for seasoning then leave them about 15 minutes.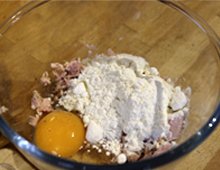 Whilst you are waiting, you can make the stuffing, drain 1 can of tuna and put it in a bowl. Mix in 2 table spoons of plain flour, 1 egg and pinch of pepper. You can add more by adding in chopped peppers (capsicum) or onions. Mix this well so you have a stuffing that is holding together well. Finally take your other egg and crack it in a bowl and beat it.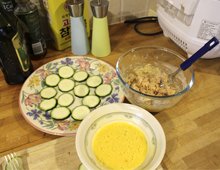 ---
Once you have made that and the courgettes have dried out a bit you are ready to make your sandwiches/pancakes. Take a slice of courgette and place 1 tablespoon of your stuffing on to it. Take another slice of courgette and press this firmly on the other side to sandwich the tuna batter. Do this with all your slices of courgette until you have a plate of sandwiches.
To cook pre-heat the frying pan to a medium heat, with a splash of oil.
Now take your courgette sandwiches and dip them in the egg before placing them in the frying pan to cook. Ideally you want to aim to fry them on each side for about 2 minutes, so it cooks nicely. After 2 minutes turn them over.
Once cooked take out of the pan and serve on a plate and enjoy. These look great and will go well with most things. Enjoy and let me know what you think.