Bibimbap Recipe
Enjoy the famous dolsot bibimbap
Bibimbap is everything korean chucked in to a bowl. The essence of the dish is sticky rice and a tablespoon of gochujang, with any vegetables or side-dishes you can find added.
The term Dolsot Bibimbap refers to the traditional stone bowls that are used to make and serve this dish, this keeps the rice hot and the bottom crunchy, you can buy these bowls from most Asian Supermarkets.

I have used the following ingredients: 

Sushi Rice
1/2 tablespoon of Gochujang
2 mushrooms
1/2 courgette (zucchini)
1/2 carrot
Spinach
1 Egg
Common ingredients include beansprouts, minced beef, lettuce and Kimchi, However you can use pretty much anything you can get your hands on.
To start fry all the vegetables you are using, cook some sushi rice and put this in a bowl, add all the cooked vegtables. Depending on how spicy you like your food add gochujang, as a guide about 1/2 tablespoon is about right for a nice spice.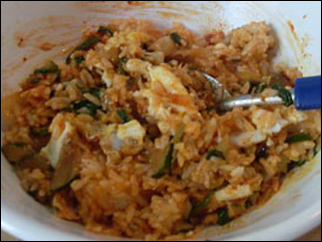 Mix everything together throughly, and then enjoy. This makes a great lunch or dinner, and can be very healthy and is low in calories. A very easy bibimbap recipe!