Japchae Recipe
Japchae (also known as jabchae, chapchae, chop chae) is a famous noodle dish that uses the unique Korean glass noodles called dangmyeon, these are made from sweet potato starch and are available from most Asian supermarkets. This recipe is very tasty and the noodles have a very interesting texture.
This dish is often served as a side dish, However you could easily make japchae as a main dish if you wanted, we normally make this dish for special occasions.



I have used the following ingredients:

250g Glass Noodles
1 medium carrot
1/2 courgette
2 mushrooms
1 handful of spinach
1/2 onion
1 chicken breast

Sauce

4 tablespoons of soy sauce
1 teaspoon of sesame oil
2 cloves garlic
1 tablespoon of sugar

Start this dish by soaking the glass noodles in cold water for about 30 minutes, then boil in a saucepan for about 5 minutes, and then drain the noodles and wash with cold water. You will also need to give the spinach a quick boil separately as well.
Cut all the vegetables and chicken breast in to slices, and fry in a frying pan, it's best to start with the carrots as these take a bit longer to fry. In a small bowl mix the soy sauce, sesame oil and sugar in a bowl and crush 2 cloves of garlic and add this.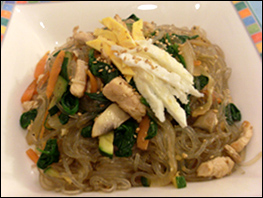 Once the vegetables are cooked add the sauce and mix well, then add the noodles to the frying pan for a final few minutes and mix well. I have served with some egg white and egg yolk omelette's
Once done serve on a plate and enjoy!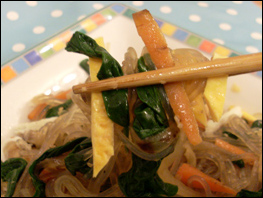 Top of Japchae