Jeyuk Bokkeum Recipe
How to Make Korean Spicy pork
Jeyuk Bokkeum or Jeyuk Bokum goes great with Bulgolgi and is the next step in your Korean Cooking journey, I am introducing you to a very unique Korean Ingredient called Gochujang, this is a warm spicy sauce made using red pepper powder. It is available from most Asian or oriental shops.
This Jeyuk Bokkeum recipe is very easy to make at home, and one of my personal favourite Korean dishes. The taste is truly Korean.
I have used the following ingredients:

350g pork belly
1/2 Carrot
1/2 Courgette (zucchini)
3 tablespoons of soy sauce
1 tablespoon of Gochujang
2 teaspoons of Sugar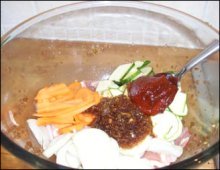 I have also added 1/2 a carrot and courgette and a small onion, as I love to add many vegetables to my food, but it's your choice.
Begin by thinly cutting the pork belly, the thinner the better, and then slice any vegetables you wish to add.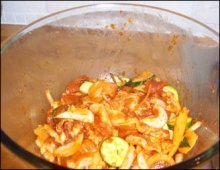 Put all of this in a bowl, add about 3 tablespoons of soy sauce and the gochujang followed by the sugar (you can use honey if you wish). Mix together and put in a bag or box and leave to marinate overnight, or as long as you can.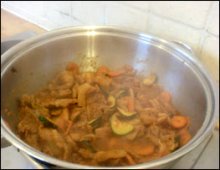 To cook fry in a hot pan until well cooked, during cooking taste the pork and add more sugar to sweeten or add more gochujang to make it spicier your choice.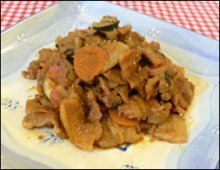 Once cooked put on a plate and serve, best served with rice and side-dish. I also like to make lettuce wraps with this recipe, wrapping the pork and the rice in a lettuce leaf.