My Korean Pancake Recipe
For quick and easy Korean pancakes
Very different in flavour to traditional pancakes, Korean pancakes are quick and easy to make. with this Korean pancake recipe I like to pack them with vegetables and dip them in soy sauce, for the perfect lunch.
I have used the following ingredients:

2 cups of white flour or 2 cups of Korean pancake mix
2 cups of water
Salt + Pepper (if using flour)
1 Carrot
1 Courgette (zucchini)
1 mushroom
Other popular ingredients include spring onions or squid.
Begin be putting in a bowl 2 cups of strong white flour and 2 cuts water, season with some salt and pepper (if you are using the pancake mix there is no need to season).
Slice the vegetables you want to use, I have used carrot, courgette and mushroom and then add these to the bowl, before mixing together well. Now put some oil in a hot pan.
You have a choice how to make the pancakes, you can create larger pancakes, or mini ones which are great for kids. As the mixture is quite thick use a ladle and spoon the mixture in to the pan.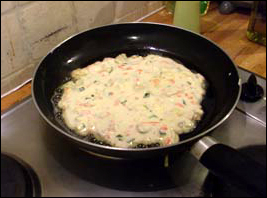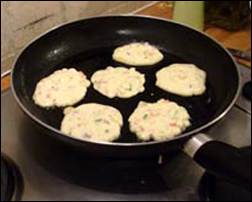 Allow the mixture to cook well and brown on both sides, once well cooked pop on a plate, in a small bowl put a small bit of soy sauce and use this to dip the pancakes in.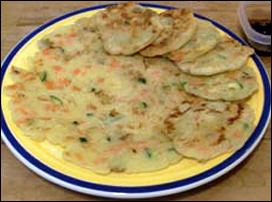 Easy and Delicious.