How to make
Korean spicy ribs
The taste of these spicy ribs is simply delightful, the meat literally falls off the bone and is simply delicious. Cooked in a slow cooker for several hours allow the flavours and spice to truly infuse with the meat.
I have used the following ingredients:

1.2kg of spare ribs
5 tablespoons of soy sauce
2 tablespoons of gochujang
2 tablespoons of honey
1 1/2 carrots
1 large potato
Begin this dish by cutting the vegetables in to chunks, pour about 1/2 a cup of water in to the slow cooker, add the soy sauce, gochujang and honey to this and mix well. Now pop in the vegetables and ribs and mix with the sauce, turn on the slow cooker and allow to cook for several hours.
When you open up the slow cooker, you should get a lovely aroma and the meat will be falling off the bone, put on a plate and serve, this goes well with Kimchi and spicy cucumber.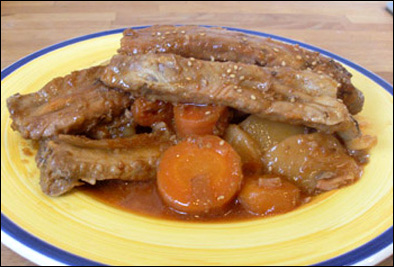 Top of Korean Spicy Ribs Recipe